In Episode 170, Nate, Newton, and Mark welcome Englishman Joshua Jones to the microphone. He discusses how we can build genuine relationships with the opposite sex that DON'T threaten marriage. Is it possible? Is it wise?
The Book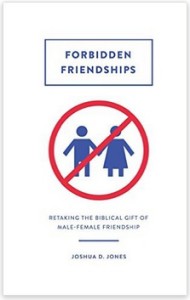 Forbidden Friendships: Retaking the Biblical Gift of Male-Female Friendship
Forbidden Friendships presents the case for why Christian men and women not only can but need to engage one another in deep friendship and how to do so.
In the name of integrity, walls are being raised that keep us from meaningful brother-sister friendship in Christ. While personal boundaries can be healthy, these generalised divisions are not Biblical nor these rules in line with Church History at its best. Contrary to their promises, we are not safer from sexual immorality by adhering to them - we are more at risk.
Movie Referenced
Music Used
The Official Motion Picture Soundtrack, When Harry Met Sally
We'd love to hear from you. Please take a few minutes and answer questions on our listener survey. You'll be entered for a drawing for a free, autographed copy of Nate Larkin's book, Samson and the Pirate Monks.
Subscribe to the Pirate Monk podcast
Please tell us what you think by leaving a comment below, scrolling to the bottom and leaving us a voice mail via Speakpipe, or call (615) 807-0476.
Share
|
Download(

Loading

)